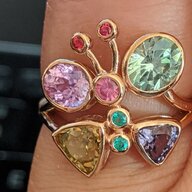 Joined

May 13, 2018
Messages

2,911
Even my Google Pixel phone can't get the color just right.
I'm considering the following ring for purchase on a payment plan. I love how it looks in my office setting. Stone is certified by GIA as unheated and Burmese. It has a raspberry purplish (to my eyes) modifier, but appears quite lovely. It makes my pink spinel look pale in comparison. I don't see a window in person, but it appears to have one in phone photos?
It appears to color shift based on lighting, but looks good in diffused light from a south-facing window. No north-facing window for me.
What do you guys think? On the fence about this one, leaning towards buying.
Pic 1: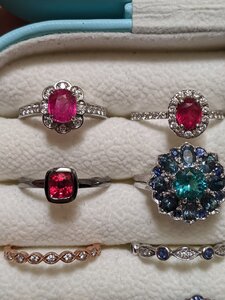 Ring on top left for consideration, next to my ER and an orange red spinel under skylight in morning.
Pic 2: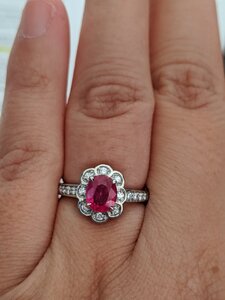 Facing south in the morning at office.
Pic 3: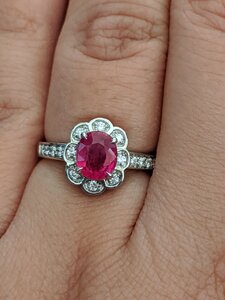 Zoomed in shot of ring.
Pic 4: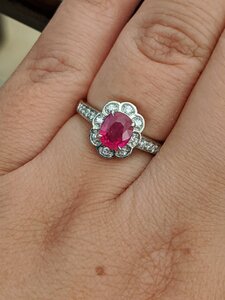 Another diffused light photo, camera doesn't allow the color saturation as it appears to my eyes.
Pic 5: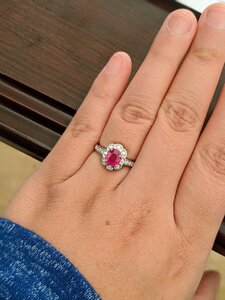 Full hand perspective, diffused light.
Pic 6: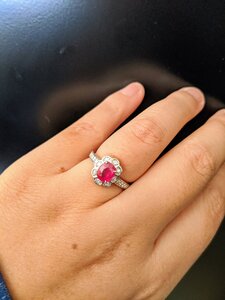 Not at desk, higher level of diffused sunlight from the window.
Pic 7: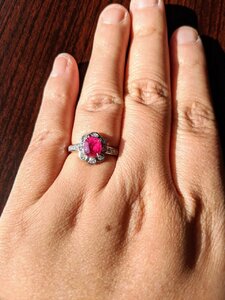 Here it is under more direct sunlight. It turns purplish.
Pic 8: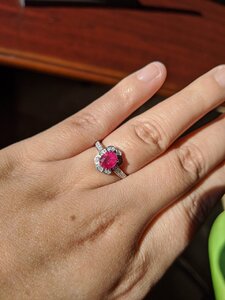 Stone facing sun.
Pic 9: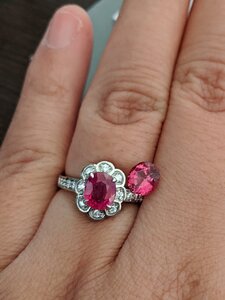 Color comparison with reddish pink Burmese spinel, diffused light.
Pic 10: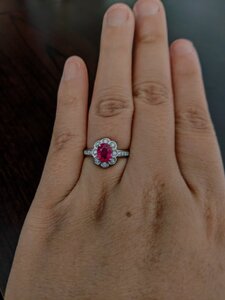 Tried to color adjust to show the darker, more vivid tone that my eyes see. My eyes still see 80% tone, whereas photo only shows 65-70%.
Pic 11: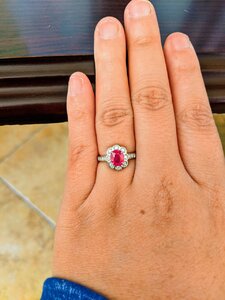 My best photo, though not showing the darker tone my eyes see. I think pic 2 was the worst.
Pic 12: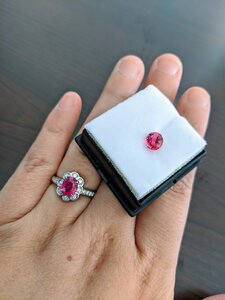 Comparing the ruby to the reddish pink spinel again. The spinel scintillates more, but the ruby is just the right amount of silk and vivid color.
Help me decide!
Last edited: