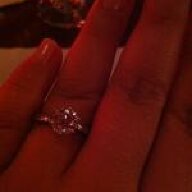 Joined

Sep 11, 2011
Messages

6
Hey everyone,
So my bf and I picked out my perfect diamond today, I don't want to jinx anything so I'll only share the carat weight, which is 1.68 round brilliant, so you guys can give educated opinions on the setting. Now that I've picked out my perfect diamond I need to give the jeweler more information on the setting I want him to design for me. We decided to put most of our money into the quality of the diamond and keep the band classic and pretty plain because we can always upgrade the setting a few years down the line. It will have to be platinum because I have a nickel allergy.
I had previously decided I want a tapered band with a six prong head similar to Tiffany's signature setting. The reason I originally like the taper was because it puts emphasis on the diamond and makes it easy to design a wedding band to sit flush later on. However, now that I'm looking around I think I may want a classic tiffany setting without any taper. I'm not sure if one would be more durable or stronger than another? Also, I have no idea about platinum and what's good quality and what isn't etc. So if you guys have opinions on taper versus classic tiffany setting or any advice on making sure the platinum is good quality please share! I posted pics of Tiffany's signature setting
and a Damiani setting that has the shape and amount of taper I would like (I really hate the head on that one though!).
Thanks everyone!