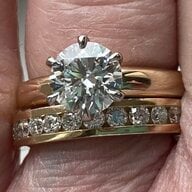 Joined

Feb 27, 2007
Messages

25,812
I am thinking about having this diamond brought in to see for a possible upgrade from my 0.81 F GIA EX (VS1).
HCA Score is 1.1 EX EX EX VG
Why am I looking to upgrade? Because I want that magic 1 ct. mark now and something about my diamond just doesn't make my heart go pitter patter like my old .53 AGS0. Also my birthday is at the end of May - what else would a self respecting PS girl want for her birthday other than something that sparkles?
One big concern on this one is whether it would be eye clean (see link below). I know none of us can be sure till we see an Si1 in person and some people can see things better than others - but I thought I would ask your valued opinions. There are some G VS2 AGS0 available but I like the icy whiteness of my F (my .53 was an E). DH might push towards one of G diamonds though because once he looks in the loupe he doesn't like to see a lot of inclusions. The G diamonds are at least $500 more which is at the high end of my budget. Right now I can't afford to look at E or F one carat diamonds in VS1 or VS2 clarity.
They do have another F Si1 for the exact same price and same HCA score with less inclusions - it is listed as an AGS0 not one of the Platinum diamonds.
The Specs are:
AGS#: 1040403440002
Report Type: The Platinum Light Performance Diamond Quality® Document
Shape and Style: Round Brilliant
Measurements: 6.42 - 6.45 x 3.96 mm
Cut Grade: AGS Ideal 0
Color Grade: AGS 1.0 (F)
Clarity Grade: AGS 5 (SI1)
Carat Weight 1.007
Fluorescence: Negligible
Comments Additional clouds are not shown
Light Performance: 0
Polish: Ideal
Symmetry: Ideal
Table: 55.9%
Crown Angle: 34.8
Crown Height: 15.2%
Girdle: Faceted, 1.6% to 4.4%
Pavilion Angle: 40.7
Pavilion Depth: 42.9%
Star Length: 55%
Lower Girdle Length: 76%
Total Depth: 61.5%
Culet: Pointed
Here is a link to the AGS Lab report.
http://www.agslab.com/pdf_sync_reports/1040403440002-PLDQR.PDF