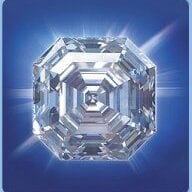 Joined

Jan 5, 2007
Messages

745
I had read post after post and still cant get a feel for a good looking asscher. Hope you all do not mind all of the inquiries.
Also, a while back you were talking about spread. What does it mean when someone comments on the spread of an asscher, is there an ideal spread to look for?
http://www.jamesallen.com/diamond.asp?cid=131&item=976288
the under side of the table looks light, i am not sure if that is a bad thing, i know you dont want to go too dark under the table. but if it is too light maybe the mile of mirrors look wont be pronounced so much.