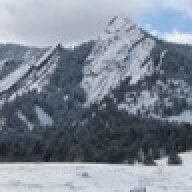 Joined

Mar 29, 2007
Messages

702
Hello! This is my first post but I have been lurking for a while. My boyfriend and I have been shopping for rings, and I would love the PS opinion on a stone that we saw. We don''t have a huge budget, but I''m looking at 1ct round brilliants. I was pretty sure that a G/VS2 was my absolute minimum standard, but a jeweler showed us an I/SI2 that seemed appealing (especially because it''s a LOT less than he had planned on spending.) They tried to tell us that it''s really closer to an SI1, and the grader must have been having a bad day. I''m not falling for that!
Let me preface this discussion by saying that I have appallingly poor vision. Even with a loupe, I have a hard time seeing even the most obvious inclusions. I could not identify any inclusions on this SI2, although both my boyfriend and the GIA report say that there are two tiny ones on the outer edge of the face (could be covered with a prong.) I think the reason that it is rated SI2 is because of the bottom...I still can''t see it, but the report shows numerous small inclusions on the bottom of the stone. How much does this affect the brilliance? It seems like no one would ever see them, but I''m worried that they''re absorbing light.
Your opinions are much appreciated!!