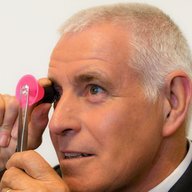 Joined

Aug 15, 2000
Messages

15,644
I didn't read the entire email or all the responses, but I have heard brick and mortar jewelers use the argument that basically only second tier diamonds are sold online after the best ones are selected by brick and mortar jewelers. Maybe that's what he was trying to relay. Though I am not sure that is a believable argument since most brick and mortar jewelers only keep a small stock on hand and otherwise source diamonds...I assume from the some of the same suppliers that work with online retailers.
Me too, didnt read it all.
KC we could divide online and store buyers into 2 catagories (or 10).
Those who want something good and at a budget and fast with least effort.
Those that research and get a better result for their budget and efforts.
Both buyers buy online and in stores.
When diamond wholesalers and retailers choose diamonds and held big stocks there was a lot of 'leftovers' online. But today where most diamonds are sold with GIA certs the leftovers are also GIA graded - previously those stones were ungraded and came with EGL or worse.