Joined

May 9, 2011
Messages

4
Hi everyone,
Thrilled to say that I just got engaged over the weekend! The ring wasn't a surprise, as I designed it from scratch, and it came out exactly to my specifications, except for one small issue...
One of the diamonds in the band isn't 'performing' as well as the others, and I would like to know the terminology of what may be going on, so I know what to say on the phone to the jeweler to adequately describe the situation as well as possible. The diamond gets darker in certain lighting (usually in lower-lit areas). It's very difficult to catch this on camera, but I think I snapped a shot that adequately shows what's going on.
Look in the middle of the band, do you see the dark spot?
A photo of the center diamond just for comparison. Still working on taking nice closeups of the ring!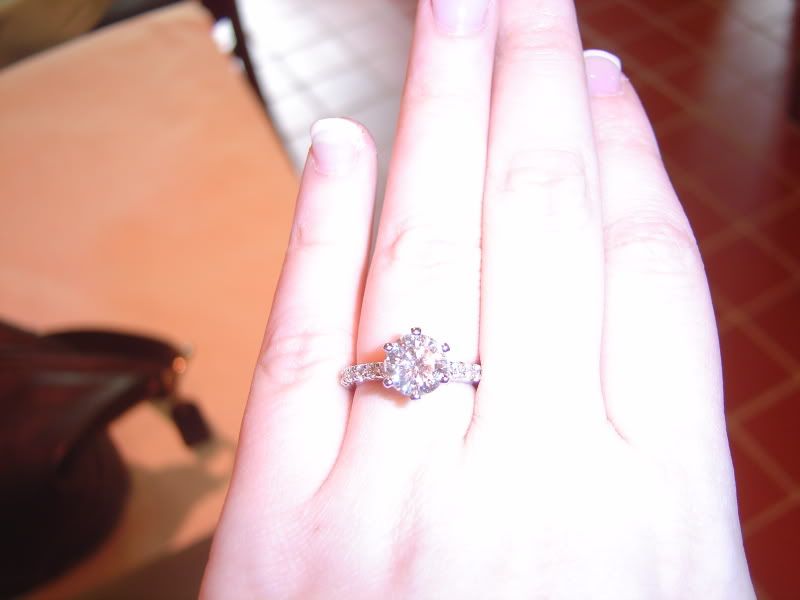 It only happens sometimes, but enough that I'm constantly looking for it and worrying about it, and I can always pick that one specific diamond out of all the sidestones. I plan on calling the jeweler tomorrow to explain what's going on, and to set up an appointment to fix it, which I guess means changing the diamond. What should I say is going on when I call him? Is the right terminology that "one of the side stones is lacking the *brilliance* of the others?"
For the record, the center diamond is a 2ct. F SI1. (GIA #2135158410), and the jeweler said that the side stones would all be similar. The color and sparkle of the 'odd diamond' seems correct in most lights, but the few times I catch it looking grey and dull it makes me unhappy. Any help in what I can say or do would be appreciated!