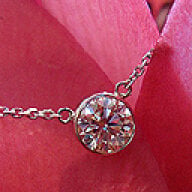 Joined

Oct 30, 2002
Messages

31,003
Was surfing around Solomon Bros looking for the Michael B Settings and found this price shocker:

http://www.solomonbrothers.com/Search/JewelrySearchDetails.asp?sSKU=10003

Of course there is no information on the stone, not even color and clarity...just the picture of the ring. Anyone care to venture a few guesses as to what sort of quality $4000 gets you in a 1.5c size stone? Maybe I will email and ask them!



I''m a little disappointed because the quality of this stone can''t be that great for such a low price (not to mention lack of info)--and SB has such a great site with so many designer settings to choose from for the discriminating setting searcher....but now that I found this stone I would be leery of purchasing anything sight unseen from them!