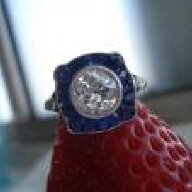 Joined

Feb 25, 2009
Messages

33
Hi! Newbie here just looking for opinions.
In my quest for the perfect e-ring I have fallen in love with OMCs/Antique Cushions. Although I had previously been opposed to getting a diamond, after looking at other stones (sapphires) IRL their lack of brilliance did not satisfy me. Therefore the old cuts seems like a suitable compromise since getting an old stone is practically like recycling, right?
After seeing some rings at Single Stone (btw: amazing!) I decided I still want to incorporate blue sapphires b/c I like the contrast they create. My question is what color grade diamond do you think would look best/appropriate with the sapphires? Since the old cuts tend to have higher color grades, would you hold out to find a whiter color, or would you be ok with the more common K+?
Also, I found this setting that I like, but that has rubies instead of sapphires. Could someone w/photoshop skills please show me what it would look like w/royal blue sapphires instead? Or that might be a lot of work, so maybe just some opinions on how you think it will look w/sapphires. In particular, I like the yellow gold of the second halo since I often wear yellow gold and think it''s a subtle way of incorporating it, but other opinions are appreciated. Thanks!