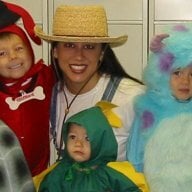 Joined

Mar 11, 2003
Messages

36
My fiance and I have seen about 10 radiants in jewelry stores so far and they've all been vastly different in appearance and cost, but have had very similar attributes (cut, color, clarity, etc.). The prices on the internet are certainly better, and after reading your forum comments, we've become more open to the possibility of buying a diamond on the internet, however, we're concerned that the stone will be as disappointing as many of the diamonds we've already seen.
It has been difficult to find any store that has enough radiants in stock to compare or from which to choose. Why is this??!! It also seems that what makes a radiant cut aesthetically pleasing is more subjective than many other popular cuts (are we wrong on that?). Could a radiant be less valuable in time? Meaning, if I spend $12,000 on this stone today, is it possible that a lack of popularity will force the price lower if I decide to trade up someday?
How can we be sure a diamond purchased online will have the physical brilliance/qualities we're looking for? Can we request a diamond be "table clean" (is this even an accurate term?) or ask for other specifications when buying online?
This site has helped me understand a great deal more about this diamond buying process so far, but I'm still so confused! I look forward to your comments.