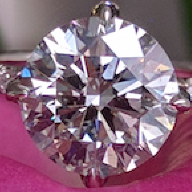 Joined

May 29, 2016
Messages

97
Interested to hear opinions. all have HCA <2 and dimensions that match what is prescribed by PS alums

#1
1.91 G SI1 ex/ex/ex
Cert:
http://images.b2cjewels.com/Images//Certificate//8408144.pdf
H/A and ASET:
http://www.b2cjewels.com/dd-8408144-1.91-carat-Round-diamond-G-color-SI1-Clarity.aspx?sku=8408144
Pro: G color. just under 2ct jump
neutral: 36 deg pavilion but with nice looking assets
Con: price 14100, smaller

#2
2.09 I SI1, ex/ex/ex.
Cert, image, and ASET attached.
Pro: larger enough to notice over G
neutral: price of 13200
Con: SI1 with Clarity grade based on clouds not shown comment

#3
2.5 K SI2, ex/ex/vg
https://www.jamesallen.com/loose-diamonds/round-cut/2.50-carat-k-color-si2-clarity-excellent-cut-sku-1049190
posted about by me already in the past, and my underdog
Pro: big. 12050 dollars.
neutral: K
con: Si2 with Clarity grade based on clouds not shown comment