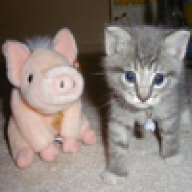 Joined

Nov 28, 2006
Messages

220
I was going to order my 3-stone ring from bluenile. I was perfectly happy with it. But when I had a question and called, it became clear that they had no idea what they were doing. They strongly advised I buy their pre-made ring instead if I was going to pick diamonds that small. Fantabulous. I decided to take some time to shop around and went to whiteflash. And then I saw IT. The champaigne setting. How amazing would that look with a half carat ACA diamond! In our budget, too. I just adore it, but I''m not sure it''s appropriate for an anniversary ring. I couldn''t even wear a band with it because of the high web on my fingers. Even though I chipped my colored e-ring it''s still technically wearable and who has two engagement rings? And, yes, I totally care too much about what other people (okay, my MIL) think.
This board is evil! Two months ago, I would have been fine with an uncertified pre-made ring from bluenile with no idea what the cut is. Then I needed something certified. Then it had to score on the HCA. And now I want ACA and possibly nothing less will do!
What do you think? Should I take the plunge or chose something more anniversary-ish (I''m also exploring an ACA 3-stone ring from them-- I don''t know if I can feel confident in bluenile now)?
This is my last thread about this darn ring. Scouts honor!