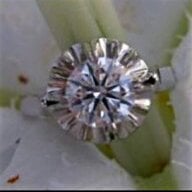 Joined

Nov 17, 2009
Messages

2,721
So, i really wasn't sure of whether i should post this story and ask for everybody's opinions or not, but i just can't get over it, i can't stop thinking about it and you guys are the only ones to whom i feel i can talk about this issue...
Some time ago i decided to use the diamonds and the gold from an old ring that i had and wasn't really wearing, in order to make a new half eternity band for my MIL, whose entire jewelry collection had been stolen from her house (and they didn't have any insurance
)
I have posted a thread about it and here is the link to it:
[URL='https://www.pricescope.com/community/threads/mils-new-bling-yellow-gold-half-eternity-band.156535/']https://www.pricescope.com/community/threads/mils-new-bling-yellow-gold-half-eternity-band.156535/
[/URL]
So yesterday afternoon my husband and i were going through some old pictures of me that he had never seen and we were having lots of fun...Suddenly, i saw a picture of myself, showing off the old diamond ring which i recycled in order to make his mom's new ring. I told him: Wow, look, this is the ring from which i took the diamonds for your mom's half eternity band! Guess what was my husband's reaction..."What? Are you sure???" I said, yeah, of course i'm sure, could i ever be wrong about this?
Well, he said, ehm...these diamonds look white...My mom told me some time ago that the diamonds of the ring that you gave her were kind of...yellow...
Just to clear things, i have lost the in house appraisal of that old diamond ring of mine that i used to make the new MIL's ring. But i specifically remember that according to it the diamonds were I color and VS clarity. Definitely, those diamonds weren't as white as the ones on my E color half eternity band but i wouldn't describe them as yellow either and i am color sensitive, that's why i decided to go down on carat size for my ER in order to get the E color (and the VVS2 clarity).
Needless to say that i am in a shock...I just can't believe this...And i'm thinking that even if she didn't think that those diamonds were white enough for her, she shouldn't have said anything to my husband and opened a whole discussion about it

I guess, i would have never EVER thought of saying anything of the sort to anybody if i had received such a gift from a person who didn't owe me anything and yet she had decided to make this piece of jewelry for me in order to please me instead of keeping the stones for herself and using them for a project of her own (i would have used the diamonds for a bracelet if i hadn't made the ring for my MIL).
My husband realized that i felt extremely hurt and, well, in a way offended too and he said that he regretted saying anything to me, but i personally think that it's best that i know the truth. I just can't get over the enormous disappointment that i felt and now i'm thinking that i shouldn't ever consider offering again in the future such an expensive piece to anybody and risk feeling so frustrated and insulted because they might not appreciate it and they might make such negative remarks on it...
What do you guys think? Am i overreacting here? Maybe i am...I'd like to hear what you think of the story...
I'm posting below two of the ring's pictures that i posted at my previous thread, when i wanted to share the new ring with all of you before offering it to my MIL. The grey color that you see is the reflection of the dark grey counter on which i was taking the pics...