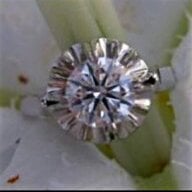 Joined

Nov 17, 2009
Messages

2,723
Some time ago all my MIL's jewelry was stolen from her home and they didn't have any insurance
She was so extremely upset about the incident that she didn't want to buy anything in replacement of her stolen pieces...I guess, this must have been one of the most frustrating experiences in her life

Both she and my FIL have been so good to me and i really love them....I was trying to figure out what to do in order to cheer up my MIL after everything that's happened and i wasn't coming up with any good ideas. Finally, i took the brave decision to use the diamonds from an old cluster ring that i had since i was very young and the 18kt yellow gold from the same ring and another old ring which i wasn't ever wearing, in order to make a new half eternity band for her. I only paid for the custom work of the goldsmith, which is great because my husband and i can't afford spending much money on such extravagances right now.
The diamonds are approximately 1 ct total weight, I color and VS2 clarity. I don't remember anything more about the specs, because after all those years i've lost the in-house appraisal that came with the original piece that i used for the...recycling!
I admit that a little devil inside me was telling me to keep the diamonds and use them towards a "diamonds by the yard" bracelet project for myself, but i guess i've already been blessed with a lot of gorgeous jewelry and i can't ever forget that my most valuable and gorgeous pieces were a gift from my parents in law. So, my MIL really deserves it and after i took the decision i didn't have any second thoughts. My only concern is that the ring might be less than what she truly deserves...I hope that she likes it and gets to love it for what it represents and that is my love for her and my wish to cheer her up and show her that...there's still bling for her after the terrible thing that happened to them...
The pictures aren't very good. I don't know why but the diamonds look dark in those photos and - thank God - that has nothing to do with the real appearence of them. I'll try to take the ring out under a tree on a sunny day and take more pics when i find the time