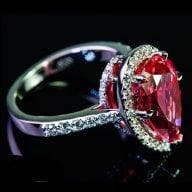 Joined

Apr 22, 2004
Messages

38,323
Whilst emailing back and forth with Richard Hughes, he tried to tell me to buy what I like and not what the trade says, but it was really difficult for me to accept that. After all, the trade sort of sets the price as well. Imagine to my surprise to read that he feels the trade has lost their way! It is very well explained here:
http://www.ruby-sapphire.com/ruby_sapphire_borders.htm
After reading it, all my mental blocks melted away. I now see colour completely differently. I still am aware of the trade preference but am also open to other very fine colours that might be considered unusual or different.
I was also surprised to see the evolution of how a pad is defined. It seems it is originally more pinkish and not pastel at all. A very interesting read and highly recommended.