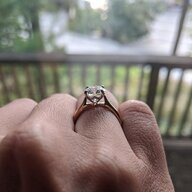 Joined

Aug 30, 2020
Messages

91
OWD has what seems like a fantastic promotion going on their P&C site for 1ctw+ I-J-K SI-1 (clean) OECs set in your choice of 14k basket/crown/weave setting. I corresponded a bit with OWD through instagram and (I think) Adam told me he would pick out a great pair for me and I trust that he will. However, after thinking about it, I became a little concerned about the spread since (from what I understand) this can vary widely with true antique OECs, so I asked him if he could find a pair with a 5.5mm spread for me. After some looking around, they confirmed that he could, so I put in my order. Now I'm second guessing my request for the 5.5mm spread. On one hand, I like the idea of having Adam pick out the pair for me, but on the other hand, I'm now a little anxious about buying these studs 100% sight unseen.
I'm generally not an "only the best"/everything-needs-to-be-perfect kind of person--I'm okay with warmth and wonkiness in my stones, and I love the charm of vintage stones. However, I also may have psyched myself out by watching Jonathan's youtube video on
spready OECs
and now I'm worried that I may have prioritized spread at the expense of pretty faceting and light return.
Should I call Adam/OWD tomorrow to talk some more about stone selection? Or maybe ask for a picture of the stones/specs before they are set/mailed out? Or should I just relax and leave it to OWD and wait for my earrings to arrive in the mail? Any feedback would be greatly appreciated, especially if you have worked with OWD or purchased OECs in the past.