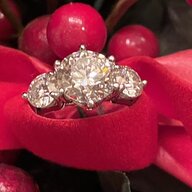 Joined

Mar 24, 2010
Messages

131
We'll be celebrating our 5oth anniversary in Oct., and I am being given the ring of my choice(and dreams) as a gift from my sweet husband. So I have some time to look and choose. I'ved read TONS of posts on this board, and tried to absorbe as much as I can. Realizing that an old stone can't be bought by the numbers like a modern cut, I hope to find a local jeweler to assist me in the search.

However, I've had email contact with a vendor and have a video of a stone. It's not the same as seeing in person, but is a start. If you were in my position, how would you search? Would you buy the stone first and then find a mounting? One good thing about the stone is the GIA report. One not so good thing about the stone is the color grade: "L". The vendor says the stone is very bright and if I saw it I would say "WOW". My ering is EX cut GIA "I", and I think it almost colorless, so I'm not too color sensitive.

I probably haven't given you enough info for you to assist me, but I don't want to reveal too much either in case I get serious about the stone. Perhaps I just need a few enable-ers. Thank you in advance for your advice.