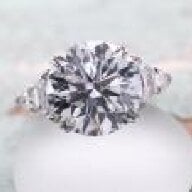 Joined

Sep 18, 2015
Messages

165
Hi all! I'm still on the hunt for the "perfect" 3-4 carat OEC. I'm currently "test driving" a 4.02 GIA L SI1 from OWD which I like very much and is close ... but maybe no cigar. One of my main complaints is that the head obstruction I see when I look at the diamond head on is really bugging me. I've read up a bunch about obstruction and from what I can tell, this isn't BAD obstruction - the table facets do not go completely black. However, they do noticeably show color from the reflection of my head and hair when I look down at the stone. I've had 5-6 OECs of this size range in my possession to examine, and all of them did it. It bugs the heck out of me - when I tilt the stone slightly, it's nice and bright and white. I want it to look that way (or at least mostly that way) from all angles.

So my questions are: Is that goal unrealistic? I know every diamond has SOME degree of obstruction, but is really noticeable obstruction just something I have to expect with OECs in general? Also is this perhaps a function of the large size of the diamond? My prior stone was a 2 carat (modern) cushion and I didn't notice obstruction much if at all. Also, I'm shopping long distance so I can't effectively examine every possible candidate for this problem. Are there any specs or characteristics I should try to shoot for that might minimize the obstruction issue (eg, earlier cut versus later cut, higher versus shorter crown, deeper versus shallower, flowery versus nonflowery facet pattern, etc)?

I really appreciate any insight you all may have!