Hi everyone! I don't post very often (if ever), but I have been a lurking member for ages.... since I first started looking for rings with my ex, many many years ago.
I am notoriously indecisive, but I have always loved old cuts ever since I first stumbled on a post of Haven's OMC upgrade post back when I was with my ex. Since then, I've always looked at OECs and OMCs on JBG and LAD, but I still thought I would always go with a MRB since it seemed like a safer choice.
And then about two years ago, I started my search for a ring with my now SO. We went to many different jewelers and shops over the last two years and I tried on a lot of MRBs, but something in me just wasn't content with anything I looked at. My poor SO just wanted a ring already and was very patient with me. In January, after I had just tried on some more rings to no avail, I was browsing Pricescope preloved and stumbled on a beautiful OEC that was just in my budget and amazing. So romantic looking and bubbly and a good size. As indecisive as I am, I can also be extremely impulsive, and even though I had only seriously considered MRBs in a higher color, I ended up purchasing this stone.
Original setting: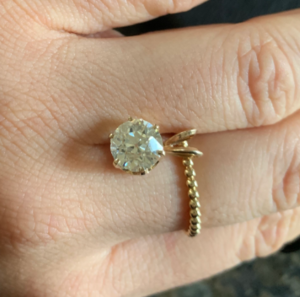 Close up after it was unmounted: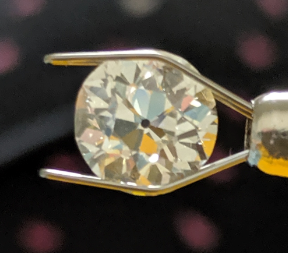 After another half year of looking at settings, I finally half made up my mind on a design for my current setting, made by DK. I say half made up my mind because I am so indecisive and tend to second guess myself, and I'm still not 100% set on the design. A part of me wonders if maybe I should have gone with 8 prongs, or have a cathedral, or a basket, etc. etc. etc. But if my SO waited for me to make up my mind 100%, we won't ever get engaged. In any case, I am SO happy with the way it came out. I don't have it in my hands just yet, but wanted to share!
Link to DK's video:
https://www.instagram.com/p/B2VTaR3Fx1w/
Photos from DK: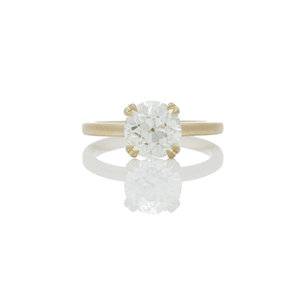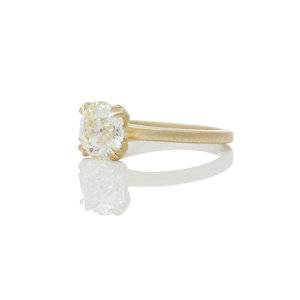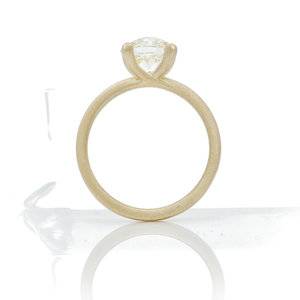 I will post more shots eventually after I receive in person.