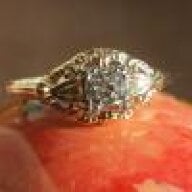 Joined

May 6, 2010
Messages

551
Baa just lost the whole post I typed, round two!
I don't want to bore you with details but in a nutshell here is my dilemma:
My husband (then boyfriend) put a lot of effort into designing a ring that I would love and set it with his grandmothers stone. The ring really is beautiful and it does incorporate all the elements I asked for (he wanted some ideas so I gave him a list, for the record if you are picky this might not be the best idea
) Anyway filigree, miligrain, sapphire halo (he chose yogo sapphires that I never knew I love more than the deeper blue variety). Ok so I love what the ring represents, the heirloom stone, and my husbands effort and love but I don't LOVE the ring itself. What I originally wanted was a delicate cushion sapphire halo with miligrain and filigree accents.
Right now resetting my ring isn't an option and I don't want to get rid of the setting because of the attached sentiment, so I guess my question is what small changes can I make to my ring to make me love it more? I see a lot of metal and I think the overall look is a bit chunky. Also the diamond was far brighter before it was set, is this because of the bezel?