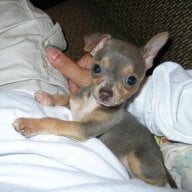 Joined

Dec 16, 2007
Messages

5,184
I am posting this more as Monday mid-morning laugh than seeking advice...since there isn''t really much you can say/do here...it''s more of an

situation than anything else...

So...

For Christmas, my MIL bought both my SIL and I breast-cancer awareness shirts. Warrior shirts, I do believe. They were extremely backordered, so she didn''t have the actual shirt to give us at Christmas, so instead she wrote this lovely little note about how we''ve all been touched by breast cancer.

So, after Christmas I''d pretty much forgotten about the shirt...until yesterday when I received an e-mail about how my MIL finally got the shirts and they were being made a sweat shop, and when the company found out they had to find new production offices hence the three month delay. Well, she goes on to talk about how the sizes are "all wrong" and that we won''t be getting the shirts in our sizes by how we can buy a mannequin or doll and display the shirt. Now, please keep in mind, this a cotton tee-shirt, nothing fancy or collectable. She also goes on to explain that she doesn''t want to bother with returning them to get the right size either because "it will take too long."

I had to laugh...so basically, you''ve spent $50.00 on a tee-shirt that will hang in my closet until it finally makes its way to Goodwill because you don''t want to bother with the entended use of the purchase? We''ve already waited 3 months for the shirts...would I rather wait another month so that I can use the shirt...or get is ASAP and let it sit in my closet useless? I mean, if it doesn''t fit--why bother even sending it? But, this is my MIL...classically her.