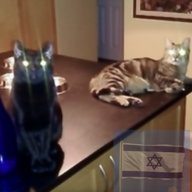 Joined

Jun 8, 2008
Messages

45,964
GM lovely ladies! Happy Monday!
@marcy
I measured the iPad for you and it is a 12" diagonal. Greg uses it as I prefer my small iPad however. You had a busy weekend. I didn't hear that about the TP potential shortage but we don't need any TP for a long while or at least that is what Greg tells me lol. Astronomy letter, laundry, work wow. Hope those snow drifts are gone and no more snow OK? Thanks for the Francesca flag compliment. How can it be Monday already? I hope this week isn't too crazy at work Marcy and please stop sending the wind our way lol. It has been crazy windy here since 8PM last night when we lost power due to the winds. Though it came back on relatively soon I was waiting for it to go out again as the winds did not die down and they are fierce today. XOXO.
@canuk-gal
gale force winds by us now...and so forceful our power went out last night but the generator kicked in whew but thankfully it wasn't needed too long and our power went right back on a few minutes later. It is a pain when we lose power because everything needs to be reset. And our winds are crazy still so fingers crossed we don't lose power today. No riding for us yesterday (rain) or today due to the winds. Hope you can enjoy some riding this week. And yassss for decreasing work hours and not working so hard. You deserve some R and R. Big hugs.
@bling_dream19
hugs and hope your momma is doing OK and feeling better with each day.
@Austina
hope the decluttering this weekend went well. Always feels good to declutter. For me it always clutters right back up again though. Short lived relief there lol. Happy Monday XO.
@Slick1
hope you had as good a weekend as possible and sending you comforting hugs and lots of well wishes.
@MamaBee
how's your mom doing? And David? And you? Hugs.
@mrs-b
((((hugs)))) thinking of you dear girl. XOXO.
@sarahb
what a surreal year plus it has been. Big hugs and continued good wishes being sent your way. XOXO.
@junebug17
hope you are enjoying your time in SC and all is going well with your children and you. Hugs and have a good week.
Hi to everyone else. We ran errands yesterday as it was raining but then the rain cleared and we got to go for our 10,000 steps walk. It was nice because it was empty on the trail. And we saw lots of birds and fish. It was a good Sunday.
And last night the winds picked up and are still crazy today. We lost power for a few minutes but our generator kicked in luckily and thankfully power was restored quickly. Mysterious how we lose power and then it's restored within minutes. What happens? Why does the power go out? IDK but just happy when it comes back on.
Today is windy so just walking and no cycling. Tomorrow Greg has a body check at the derm and I have a follow up visit too. I can see this week is going to fly by again. Enjoy a wonderful Monday lovely ladies. XOXO.