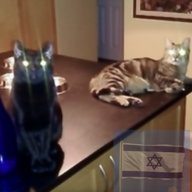 Joined

Jun 8, 2008
Messages

44,940
@MMtwo
aww thank you ❤ for all your kind words.
I figure it's just about the only thing I can control. My attitude. Or should I say cattitude lol meoww. I enjoy connecting with warm and genuine people online and off. During this pandemic it's been a blessing to be able to keep connections any way we can.
And I do get it. I am sending you comforting hugs.
Adding please don't feel pressured to keep up etc. This is supposed to be a safe haven and bring you joy and peace. We're here for you when you want us to be. XOXO.
@Scandinavian
sweet lady I can't do wool. I get hives. I put my Costco hand warmers in my mittens and voila. Cozy warm.
I ordered white/cream gloves and mittens. I know it's impractical but sometimes you gotta just let loose hahahaha.
XOXO