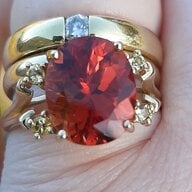 Joined

Jan 3, 2020
Messages

1,112
@Austina
Its much cooler here now, so much better.
@bling_dream19
Oh your poor earring! That's the kind of thing I would do! Looks like an easy fix.
@MamaBee
So so glad Chris is feeling better!
@Jimmianne
With kine's sweet face he could chew through all my shoes and probably not get told off!
@missy
There is nothing better than comfy shoes! I really like sketchers too but wear Doc Martens slot as they give my floppy ankles support due to the Ehlers!
Looking forward to the weekend after my husbands first week back at work,which hands been relatively smooth.