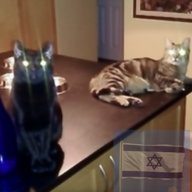 Joined

Jun 8, 2008
Messages

31,577
We had a good day yesterday. Went for a walk. Greg used his walker because well just because I felt it is wiser based on the surgeon's blanket recommendation but will talk this AM with the PT. It is getting colder here sadly but hey, it is winter. Oliver didn't vomit yesterday and praying that continues. No poop but hopefully that will come. He cut me (not on purpose) again and so I am bleeding a bit this morning. He has sharp nails and when I carry him to his breakfast in the morning he gets a bit rambunctious. He is a handful but he is/can be very sweet.
@Jimmianne
I so appreciate that info you shared with me yesterday but I don't know what to do to make him be calm around food. Almost 30 years of having cats and this is a unique and new issue for us.
I also had a nice long catch up chat with one of our dearest (past) NIRDIs and that made my day. I love how online friends become real life friends. And true and genuine all the way. It's a special way to get to know someone online and then getting to know them offline and becoming good friends. What a wonderful time we live in and yes we also live in quite a tumultuous time as well but like we said before...good with the bad, sweet with the bitter and laughter with the tears. We do the best we can each and every single day.
Wishing you all a sweet and wonderful Wednesday. XOXO.
Leaving you with a goofy photo from our walk yesterday.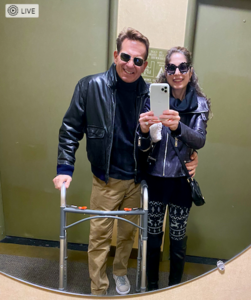 OK changed my mind. Will leave you with this sweet Oliver photo. Laying on Greg last night as we watched a movie. Sweet when he is calm.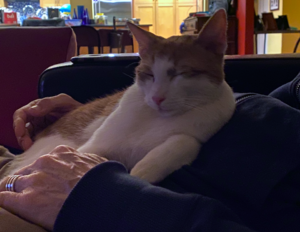 Have a wonderful Wednesday lovely ladies. And
@Scandinavian
bucketloads of dust to your mom. (((HUGS))).