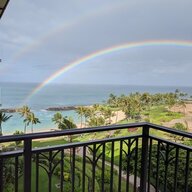 Joined

May 11, 2013
Messages

5,711
@missy
I believe in signs too Missy, totally. I LOVE the picture, it's lovely, and has meaning! You are overdoing the biking.. I know you are a big girl, but I am on the OLDER side of our millenial years young lady. xoxoxo but your mileage this year is great! thank you for the beautiful pictures, Oliver is a minx.. it's like "mom had a baby when we were teenagers" and "now he's a pain in the butt"
it's lovely. I know what you mean about keeping your endocrinologist, we may not always like our physician(s) but if they act compentently and we have a rapport - then it works. I have read that our heat wave is ending by tomorrow, I'm ready, we had a heat index of 101F and out thermometer outside read 95F, that is amazing, used to be that it never really got over 78F here in Maine, sad times.
the lobsters are migrating to northern Atlantic waters (Canada), it will be a real lost of the Mainers who make their living by lobster catching. Hope you had a peaceful day with the furkids and Greg sending love your way as always (((MISSY)))!!
@Austina
beautiful picture of your and and Kim's rings! At this time, we are looking at Liberty Hill, Leander, I like Lago Vista more than John does. Our requirement is a bungalow/one story home, nothing else unless absolutely necessary. My bestie Kath thinks it's better to buy south as homes are cheaper and it's not quite as booming but I am much more familar with the north. Not sure of anything yet. We shall see if the tile company comes back with a bid or bags it, it's hit or miss these days to find good tradespeople around here. How the the phone call go? I hope well. Hope you don't have the heatwave we had here, it's miserable. Sending cool and happy vibes to you Austina! xoxo
@marcy
Hope your article is tweaked and ready to go. Sleeping till 7, always a luxury when I worked. I hope we get your thunderstorms, we need rain for our grass. Have a wonderful week Marcy, sending happy dust to your employees! and sending a big xoxoxo to you!
@junebug17
your pear is wonderful! man I could never paint a pear or anything else, you and
@Jimmianne
are talented! My gift has always been the gift of gab!
Sounds like you had a lovely Sunday with your DH and sending you happy dust for this week! xoxoxo
@Scandinavian
so ch going on in your life Scandi.. it's lovely that your DH cares Scandi, he's a keepah! I hope your mother fares well, I've seen people go through chemo and it can be very very tiring and stressful. Sending your mom tons of healing dust Scandi, sometimes we are bubbling underneath and don't even know it, I sincerely hope all goes well this week. xoxoxo
@Calliecake
how did your visit go? How are you feeling Callie? hope this week is great for you girlie! xoxoxo
@AV_
how are things progressing? xoxo
@Mamabean
ring coming tomorrow?
@Slick1
Have a wonderful week!
sending happy thoughts to everyone..