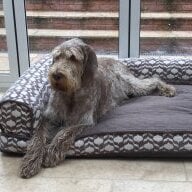 Joined

Feb 24, 2017
Messages

4,374
Hello lovelies
I hope Marty got home safely
@marcy
, ugh to snow in May! The weather in Phoenix sounds very tempting, although my friends who live there have to get away from it in the summer - hotter than the fires of hell I think! Yay to it being almost the weekend. Colin is fine thanks, he finds the vacuuming preferable and more effective to having lots of water syringed in to his ears.
Glad Zoe is doing ok
@junebug17
, poor little girl, I hope the pain meds are doing their job and keeping her comfortable. xxx
I hope you've had a safe journey back to the city today
@missy
, and you found everything ok on your return. I love the photos and video of you cycling, I think I'd have been screaming 'weeeeeeeeeeeeeeeeeeeeeeee' all the way down that hill!

Have fun exploring the tower library tomorrow
@AV_
it sounds very intriguing!
I hope you got some resolution to your DD's health issues yesterday
@Keeliamira
and that you're doing better too.
Yay to being back in Wi-fi land
@Mamabean
, glad it's all been sorted out. I'm sorry you had to have unnecessary procedures, but really pleased that everything turned out well in the end.
Colin had another Dr appt yesterday, now he's got double hernias in his groin
waiting to see the surgeon to discuss what happens next. Thankfully he's not in a lot of pain, but I did tell him he's falling to bits, and I may have to trade him in for a newer model
!
TGIF, I can't believe how quickly the weeks fly by. Today should've seen us going to the airport to collect Bob & Shirley. Bob was worried that they'd be putting us out as the flight landed at 6.30am, what I'd give to have been 'put out' this morning
Shirley is ok, getting really anxious to get home, just another 3 weeks before they set off.
Happy weekend, happy Mother's Day, whether your little ones have 2 or 4 paws.