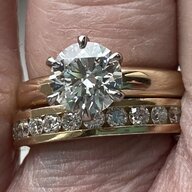 Joined

Feb 27, 2007
Messages

23,970
junebug17|1429808653|3866548 said:

Missy, thanks for your thoughts on the rings! I like both but the antique cut stone is probably a bit more "me". It is being sold at a premium because it's DBL's branded cut. It looks big in the pic but it measures 6 mm so I'm afraid that I'd run into the same issue as with the Tiffany ring, not enough finger coverage. The diamond in the second ring is a bit larger, and the melee a little bigger so probably a slightly bigger look on the hand. Also, the melee in the first ring are single cuts, and I'm not familiar with how they look. I'm definitely taking my time deciding!

Calliecake, thanks for your input too…I think I'm leaning towards purchasing a few things instead of sinking the whole budget into one piece. I know I'm using bling as a distraction from other things in my life - but yes, there always seems to be something else to put the money towards.

Jimmianne, your pics are beautiful, such amazing creatures! Your retreat sounds like it was very relaxing and fun, the perfect getaway for a few days, maybe next time you can stay even longer! Glad you had such a good time.

Marcy, very happy to hear you're enjoying your vacation, and getting a chance to just kick back and relax. How great you were able to meet up with Kristie and Bob, sounds like a lot of fun and your cookies look divine!

Like you, I love anything and everything that sparkles, therefore making it impossible for me to decide!

Thanks for your input on the rings - I went back and checked and both stones are W-X, which surprised me because the color of the second diamond does look more intense.

Kristie, I'm so jealous Marcy and Marty got to meet Maggie and Finn! They are just so adorable. I have a tremendous craving for your Kahlua cake, yum. You guys know how to do things right!

I hope Bubbles shows up very soon!

Sarah and Ovi, hope you ladies are doing well!
Junebug, bling is a great distraction and always fun to search for and enjoy. I am sure you'll find the perfect piece or pieces. That's interesting on those diamond both being W-X since they are such different colors.