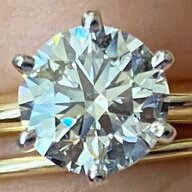 Joined

Jun 9, 2011
Messages

114
This is my first time choosing diamond stud earrings and I'm really nervous about getting them to match. I'm looking for ideal AGS000, Hearts and Arrows, H or I color, VS1 or VS2, and a total weight over .80. I'd much prefer a total weight of around .90 though. The price I'm looking in is between 2,000 and 2,400.

I've gotten a few emails from great online vendors but the stones are not super close in size.

One pair is 4.94 x 4.97 x 3.06 (table 55.3) and 4.89 x 4.93 x 3.04 (table 56.3). They are .45 each.

The other pair is 4.82×4.84×2.94 (table 56.5) and 4.78×4.80×2.96 (table 55.4). They are .417 each.

Help me sort this out please! Are either of these close enough in size to make a set that looks the same size when held side by side? Can you suggest something that would work better?