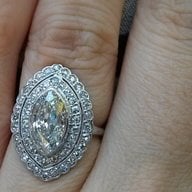 Joined

Jun 13, 2005
Messages

1,046
Haaa!!!

So this was the response I got from one of the local antique jewelry stores when I called to inquire about loose stones of a certain size.

Also, all the other local stores I called said "we don't have those" and "you'll never find that".

Meanwhile - I decided *not* to do any explaining about the markets for these stones in major centers - such as NYC and LA.

One guy told me no one wants OECs anymore, so they had all been recut. He said it would be more profitable to recut an OEC and lose 60 points making it a round brilliant than trying to sell it as is.

And you are an expert about... what again? lol

Nice!

Anne

PS - Was calling just to look, would not buy locally!