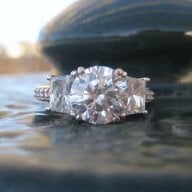 Joined

Feb 8, 2009
Messages

169
Well...I''ll jump in and play. I am southern born and bred. I quickly married my DH almost 4 years ago(crazy story..we''ll leave that for another time

) After living in many different places all over the world we are currently in the flooding Midwest. We have been here over 2 years and we love it.
I have a marketing degree but have not used it since we married. Since settling here I have become very involved in the community and volunteer a lot. I also opened a stationery/invitation/anything personalized(clothes, etc.) business out of my home over a year and a half ago. I am a mommy to 3 choc. labs. I guess you could say I piddle a lot.
I found and became addicted to PS earlier this year at the end of my ins. claim process for my e-ring. I am glad I found it but I wish I had found it earlier in my process.

I LOVE this site and hope too make some new, wonderful online friends.

My DH has 2 forums that he is addicted to so I was thrilled to find this one so I could have one too! He can''t have all the fun now can he?
ETA: I also have a problem with over using exclamation marks as well!!!!!!!!!!!!!!!!!!!!!!!!!!!!!!!!!!