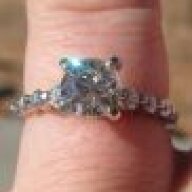 Joined

Nov 20, 2008
Messages

755
Well... here goes
I bet you can all guess my name! I live in Wisconsin, USA and I''m planning a wedding to my fabulous and sweet fiance!
I love to cook and bake and eat delicious food! In fact, my fiance and I work in the food service industry (me part time as a night/weekend job, him full time as a restaurant manager).
[By day I work in an accounts payable position at a product development firm.]
I love wine, mostly reds, especially jammy ones like zinfandels and tempranillos. I also love beer, which is good, because I work at a restaurant that serves 150 of them, all from Wisconsin craft breweries!!!
I love cats and hope to adopt a couple of kittens soon, I *really* love jewelry (obviously) and our cute ranch house with hardwood floors, and light walls with dark-stained wood furniture.
I think that''s a good start... and I''d love to learn more about some of the other people who''ve been at PS for 6 months or less!!
So c''mon, get started!