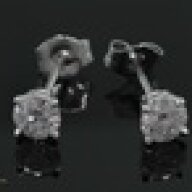 Joined

Dec 26, 2006
Messages

61
Hi!

I am new here so i apologise in advance if i have posted this in the wrong room.

There are a couple of questions about my diamond and wondering if i can get some expert answers here, TIA!

My e-ring is a round brillant H&A diamond, it was purchased from a reputable dealer and comes with an IGI certificate. I usually clean my ring with those liquid cleaners I bought from jewllery shops.

A couple of days ago, I had a look at my diamond through the scope that comes with it when i purchased it (so that i can view the arrows if i wish to at my leisure). Anyway, thats the first time i look at it via the magnifying scope since i''ve got the ring. Now, apart from the arrows, when i look at the ring on different angles, i saw these tiny teeny teeny ''bubble'' like dots all over the diamond.
They dont seem like any scratches or chips on the surface as when i look at it in other angles, the surface is smooth.

I have looked at my other dimond ring (with much smaller and lower grade dimonds) and they have the same bubbles.

The bubbles are like the bubbles attached to your glass when we have soda in it, but much smaller, like tiny dots.

Is this normal?

This e-ring is classed as IF, E color on the certificate, i thought it was suppose to be internally flawless?

Am i imaginiing things?

Thanks in advance!