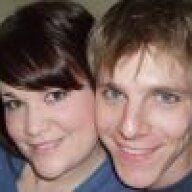 Joined

May 1, 2011
Messages

2
Hi all,

So my boyfriend and I went ring shopping today. We went to a couple places, and I absolutely fell in love with a setting at Shane Co. We're having a harder time picking a diamond, though, as neither of us is educated on all the aspects in picking a good one.

The one I liked at Shane Co. was a .54 radiant, G color and I1 clarity. It was $1,300. We saw a similar diamond at Jarred's, a .40, G color and SI2, for $800. But not only was it darker there, even when I looked at it through the magnifier, I could plainly see the occlusions.

My questions are:

How do I determine the best proportions for a radiant, the make and symmetry/polish?

Where is the best place to find a high-quality, beautiful diamond that won't break the bank? We're looking at diamonds preferably around $1,000.

Thank you in advance!

- L.