Okay, now I'm all set for summer with my new white pretties, so WHERE IS IT?!
I just got this ring from Kojima Pearls and shrieked when I opened the box. It is SO metallic, with heavy pink overtones and some green ones, too. It's a puffy coin pearl and was shown with a gold filled setting but I requested 14k instead.
And there's my white metallic rope from Pearl Paradise, too, although at the moment it's back there getting a clasp. Don't ask me what I was thinking to request it without a clasp in the first place.
I also sent my 10-11mm white metallic drop earrings to PP to get them switched into the blossom setting, and I got those back too. I bet they'll be my go-to summer pearls just like my Tahitians in the blossom setting are my go-to winter pearls.
Last but not least except in size is the itsy-bitsy 2 mm strand. I got the pearls from Lei Family Jewelry-2 on ebay and had them strung and a clasp added at PP. I was copy-catting Barbara's (aka Bsomlo) strand because it made me all crazy with jealousy lol. I think she got hers from Hisano's Little h line.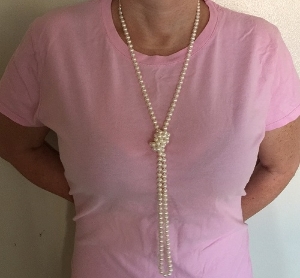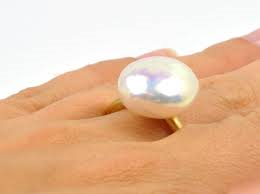 This is from Kojima's site. I'll probably wear it with my two thin diamond bands.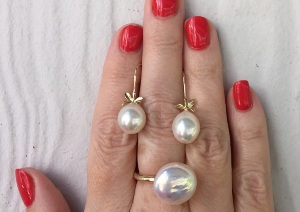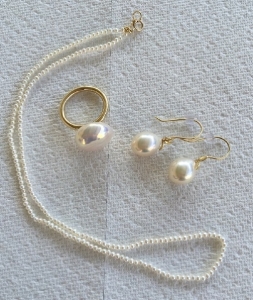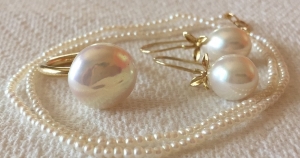 The little black specks on the ring pearl are something that blew in on the picnic table, not spots on the pearl.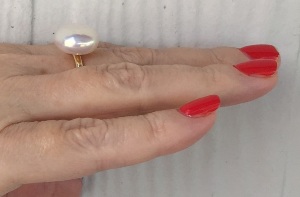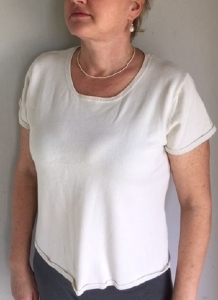 To show how tiny the tiny strand really is. I had a close-up but my head looked too big lol.