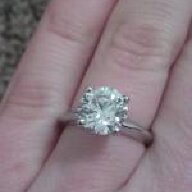 Joined

Sep 2, 2011
Messages

11
Hi everyone,
I am new to pricescope and very seriously shopping for a diamond for engagement ring. My very basic criteria are 2ct, GIA or AGS cert only, Excellent/Ideal Cut, Color H,I,J, SI1 or SI2. I chose these criteria because the 2ct is important to me, and the budget is approx $15k. I am currently searching for a RB. Any feedback/suggestions regarding my criteria is welcomed.
I started by searching the
James Allen
website after reading many good reviews on this forum, I put in my search criteria and came up with about 15 options. I ran each through the HCA and selected this particular as my favorite based on the 1.6 score:
http://www.jamesallen.com/diamonds/J-SI2-Ideal-Cut-Round-Diamond-1378747.asp
For a my budget should I be looking for a better score?
I think my next step should be to request an
idealscope
, but please let me know if i'm wrong. I chatted with a representative and asked about the center inclusion and she said it's probably visable but could request for a gemologist to view it. I have read on this forum that a large center inclusion on an SI2 could be an ideal location?
I am not ready to pull the trigger on purchasing a diamond today, as I feel like i'm just getting my feet wet with the educational process, what I am really looking for here is to know the proper evaluation process of a diamond when shopping online. Am I on the right track, is there something that I am missing?
This was another option that I viewed on
ja
website:
http://www.jamesallen.com/diamonds/J-SI2-Ideal-Cut-Round-Diamond-1194803.asp.
. This diamond had a hca score of 2.4, but I was attracted to the size.
Thanks for you help.
emb