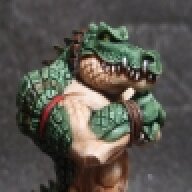 Joined

Nov 28, 2007
Messages

223
Hi Magenta,
I have a ~4.5ct Spess from Dan. I will probably spend my Ruddy money to finally have it set.
Often when examining closely and trying to take photo''s it is similar in behaviour to yours. It seems like only 1 half under the table lights up. I think that this is a head shadow effect. Dan doesn''t cut with windows face up so you aren''t losing light through the back of the stone. Obviously you will get a tilt effect window at some point. Basically it''s your scone or the camera that causes this effect. You don''t see this in Dan''s photo''s because he has lighting/camera setup to avoid this effect.
If you have a helpful partner have them hold the stone for you vertically like a pendant in some nice diffused light. My spess looks like a stop light in these conditions, with great scintillation which catches the eye really well over quite some distance. Even at arm''s length for me (admittedly I''m 6''4" so I have a little reach, lol) the effect is apparent and as I pull it in for a closer look the stone closes up again, which is a little disconcerting. I''m confident that once it''s set and I have a bit more freedom when I try to take photo''s that I will be able to capture some much more flattering shots of the stone.
PS Just had a look at a 2.26ct Spess at Concave Gems of similar colour and it is $700 so there is always that to consider too...and this one "http://www.webgraphicsengineering.com/Gemstones/detail.cfm?zNum=5757" which shows a similar effect to our stones and is advertised on concave gems as no bowtie. I don''t think you have to worry about the quality of the cut.
Give that spess some breathing space and I''m sure it will light up. I think we all get so tied up in the minutiae that we often get too close in our examinations. If you still feel bad just go and look at some jewelry store garnets. That will perk you right up