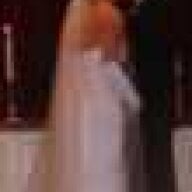 Joined

Jun 23, 2004
Messages

281
Here is the deal..I have another concern which is bothering me a lot...and I feel like I am hurting my hubby''s feelings... ok here is the deal. I brought my ring to a local jewler today to make sure the setting was ok and to see if he could notice the imperfections. He noticed in like two seconds but not only that he also said that the diamond is not set as good as it should be, not too bad but not perfect. Then he went onto tell me that my diamond is a fair cut diamond and that no matter how many times I change the setting, I may never be happy. He said it does not sparkle like it should and that I should not bought the stone on-line. He said that my diamond is poorly cut, blah, blah, blah, it made me feel like S***!!! I know my stone is not perfect, but as far as radiants go to me, it is fine. The only thing is that bothers me a little is that it measures out at 1.00 carat and is a 1.20, but other than that it looks great to me and everyone else that sees it. Well being 4.5 months pregnant and very hormonal I got into my car and cried like a baby to my husband. I told him I wanted a new stone, blah, blah blah.. what should I do???

Should I put weight in what this man is saying and get rid of my stone? I am not 100% happy with my stone and never have been but it does have setimental value to me and I know it is not a bad diamond, should I suck it up and set it into a pave setting to make the stone look bigger so I can be happy for a several years or should I sell my stone?????

Also, if I do change my setting again, into a pave, my wedding band does not match, is it sac-religious to change wedding bands???

Thanks again.........