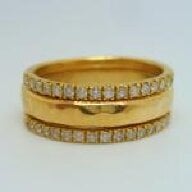 Joined

Jul 25, 2008
Messages

3,988
I finally got my act together, set a budget and started searching for one of my favourite gems: a sleepy stone that glows. My inspiration stone is a glowing pink tourmaline that my dealer once had. Unfortunately, a kashmir sapphire or Paraiba is out of my budget...

I have asked my local dealers and all of them looked at me like I had grown an extra head when I inquired about this. I haven''t hit on the right keywords to search on the net. So I wondered if PSers might be able to help (I am amazed at what you guys can find!)

Budget: $300 (but I can be flexible for the perfect stone)
Gem type: irrelevant, as long as it is a sleepy glow
Colour: preferably blue or pink, but anything goes
Preferably a cabochon
Eye clean
Size: at least 1ct, but less than 3cts

Bottom line: as long as it glows, I am happy.

Am I even remotely realistic with my budget? The inspiration stone was only around $60, since it had a lot of silk (obviously, exactly what I am looking for).