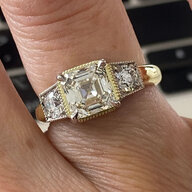 Joined

Jun 25, 2019
Messages

134
I figured I'd start this post now as I'm so excited and I'd love to see other people's semi-bezel rings too
This week I dropped off my sweet 2ct oval that I bought from Alex Park. I never imagined being able to afford a 2 carat diamond but when this beauty came up at an amazing price, I decided to go for it. I did worry about my sanity a little as it's an M colour I1 stone but as Alex said, it's a bluffy diamond. Indeed, when it arrived, I could barely make out any inclusions, including a small orange garnet crystal in the middle. The science nerd in me couldn't resist this to be honest. As for the colour, I will forever be amazed by how much the lower colour diamonds can face up white.
Anyway, I finally found a jeweller that appealed to me to make a ring for my stone. The shop is run by two young guys who are passionate about jewellery making. The guy making my ring was excited about my stone and was more than happy to recycle a bunch of gold jewellery I had on hand to make the end price very good indeed!
I decided that I wanted to set the stone east/west in an 18k yellow gold semi-bezel setting. My jeweller is also going to work in two diamonds on the side profile which will come from a pair of diamond earrings my mother gave me. They are lovely but white gold and I am always paranoid of losing earrings so I never wear them. This is a better way to enjoy those stones
I'm also using the 18K gold from my champagne solitaire ring. My jeweller is going to remove the diamond and head and convert it into a pendant which is a huge win/win situation for me as I wasn't sure what I was going to do with my first one carat purchase
The design will be fairly simple but suits my taste for more modern looking jewellery. I should have it ready before Christmas.
Now to break it to my husband that I err... did it again...
If anyone has any semi-bezels for me to look at, please show me!