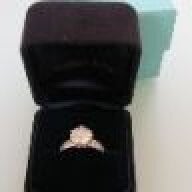 Joined

Oct 27, 2004
Messages

259
Hello again PS! so I feel guilty looking at everyone else''s photos and not sharing more, as I know how excited I get when someone posts new pictures! We are diamond addicts after all!
I am attaching a few new pictures of my newest set of rings that I have been wearing lately. It was a nice sunny day the other day and the rings caught some rays....though can you believe the little guy was absolutely FILTHY! I looked through a loupe after that and saw some nasty build-up. I have since bought an ultrasonic cleaner and boy! what an improvement, really does make the ring sparkle even crazier and looks bigger too. so the pictures here are of a dirty diamond, I will take more photos of it all cleaned up soon when the sun is out again..
2.52ct F VVS2 solitaire in four prong basket platinum setting, wedding band is 3mm Lucida platinum band from T&Co. Hope you enjoy!