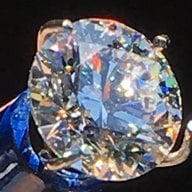 Joined

Aug 10, 2005
Messages

1,257
They have had my stone for three months and I still have not heard back.
Oh I'm so sorry. I'd also be terribly worried with that long of a wait! 3 months?
At least the bench person confirmed it wouldn't be a problem with yours and they must have a backlog during the busy season.
I too couldn't understand why shortening prongs would take so long, but they claimed it was the backlog of work to catch up and they went overdue on their promise date (2-3 days, 7 days max). I called several times and told them I was getting very nervous and I finally heard "give him at least two hours" and was able to pick it up on Friday before the weekend.
Perhaps you should call them back and say you're getting anxious and not so fine with further waiting after the several months wait!
Who knew desired prong work could be so hard to get?