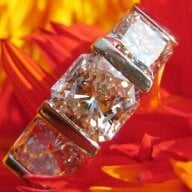 Joined

Feb 20, 2006
Messages

1,420
Date:

4/17/2009 7:13:01 PM

Author:

MakingTheGrade

Thanks Suzy!

My uncle LOVES them. He collects antique swords, including some gorgeous damask steel katana swords that were forged with mokume-type techniques. I used to have pictures...can''t find them now, but they were amazing!! So he''s a big fan of my mokume bands

Wouldn''t be surprised if next time I see him he has one himself!
Yes, I am a big fan too. I''ve been trying to get my dear husband to get one, but he''s just a "plain gold band" kinda guy. I really liked the three colored metals forged together (white, yellow and copper colors). Sunset, I think the combo was called, anyway, I think Mokume''s are fabulous!
It will be fun for you to explain the craft and history behind your rings to people who normally would never have a chance to see anything like them. I''m sure you will get many questions through the years and plenty of chances to tell the "story" behind the ring.
Again, those are really beautiful rings!