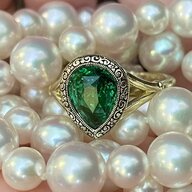 Joined

Mar 2, 2009
Messages

12,649
So I've been pretty quiet in the past few years due to work taking over my life, but I haven't entirely given up shinies!
I still love garnets and recently acquired a new leuco garnet, it's even more colorless than my leuco asscher. The sparkle is impressive.
Info from cutter (Dan stair)
STONE: Leuco Grossular Garnet
CUT: Barion Arrowhead
TOTAL WEIGHT: .94 Cts.
DIMENSIONS: 7.36 x 6.37mm
ORIGIN: Tanzania
TREATMENT: None
YOutube:
https://www.youtube.com/watch?v=d2GICnF4nFk&authuser=0
However the shape is so odd! I love it but could really use some help with design ideas or inspiration pics! Side stones? Gold color?
Will try take some pics when I have time. Sorry for the bad iphone one but just using it for size reference!