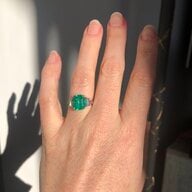 Joined

Sep 25, 2008
Messages

2,928
Firstly apologies for lack of photos - I promise they are on their way!
My darling hubby gave me a beautiful 3.2ct emerald-cut honey Zircon as an Easter gift.

It's from a local reputable gem/opal store.
It sparkles like mad and is a lovely sunny yellow colour in the sun, tad more champagne colour in the shade resembling a yellow diamond. Apparently it's untreated. It's eye clean with a teensy veil at the end which is only visible under a loupe.
I am totally smitten BUT I seem to recall that zircon should show some sort of double refraction thingy? I'm sorry I not sure what its called but I just cannot see it. Maybe it's due to the cut but I am now worried perhaps I have something else...?
Any ideas/help? He has the receipt so I will take it back if it is not what they claim. I want to set it but am worried if it is not a real Zircon then it might be too soft.
I will borrow a camera and get pictures tomorrow.
Thanks in advance!