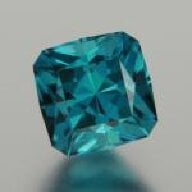 Joined

Jan 18, 2008
Messages

9,758
Hi all,
here are some photos of my new golden yellow beryl/heliodore -
specs are 1.51ct, 7x7x6.5 supernova oval cut by Barry.
I believe its Brazil material.
Not sure what the clarity grade is - when I photo or loupe it, I can see some skinny lines which I understand may
be needles..?
But it is completely eyeclean, which is all that matters for me

The colour is soo pretty, and almost exactly what I was after when I started out seeking a "sunny gem".
It is a mixture of yellow, gold with flashes of orange - the colour seems very saturated to me.
Fun little story - this was a gem that Barry had cut many many yrs ago, and had just been sitting around being unappreciated at his local jewellery store.
Fortunately for me, Barry had just decided to bring the beryl home, as he thought it was too good to be ignored like that - and I tend
to agree

ok, on to some pics !
(for ma re, the majority of these are taken in indirect midday sunlight, except for the fiery ones, which were in direct sunlight).