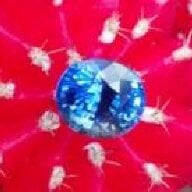 Joined

Dec 7, 2012
Messages

321
It's a long story, but I finally have a stone that makes me smile. I had a 1.5 RBC from my marriage that was a nice, sparkly stone. After I remarried, it didn't get much wearing time, so I bought a used setting from a PSer and took both to my local jeweler for a reset. That jeweler "lost" the envelope with the rings and a few months later replaced the stone and setting with a comparable stone. Here's the link if you want to know more:
I mentioned a while back that my jewelry store "lost" my diamond and two settings when I left them for a reset. If they know what happened, they aren't saying, but they did replace it. https://www.pricescope.com/community/threads/diamond-reset.218262/ They finally gave me a replacement ring...
After wearing the replacement ring off and on for a few years, I slowly began to dislike it because it didn't sparkle like the lost diamond. It might as well been made of metal because it had a plain, steely look to it. The cut was good, but something was off. Maybe it was the fluorescence. It just didn't make me smile, and that's what this is all about. Right??
So I recently found a new jeweler. He doesn't have a B&M store but has a small office on the fifth floor of an office building. You ring a doorbell in the hallway outside of the door, and he buzzes you in. Really nice guy. He deals mostly in estate jewelry. He was recommended by a friend when we were looking for some jewelry for my mother. She bought a lovely opal ring with a diamond halo and a really nice 1.5 ct emerald cut diamond ring with two 0.5 ct side traps. But I digress.
He also had a 1.99 ct L VVS2 European cut in a simple setting. He said he weighed it before setting it, and he tried and tried to get it up to the 2.0 mark, but it really is 1.99 ct. I have been wanting an OEC around an M, and this one was so pretty and sparkly. He agreed to trade for my 1.56 replacement ring (plus $1000), and I jumped at the offer. I was just glad to get rid of the replacement ring that I didn't like.
Here are pictures of my new ring. This one sparkles!! It's a keeper!