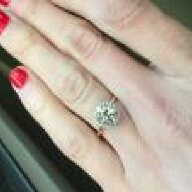 Joined

Feb 23, 2016
Messages

12
Hi everyone! I've been a lurker around here for too long, but I can't stay in the woodwork forever! I'm newly (as of last Thursday) engaged to the man I've been dating for ELEVEN years, and I've finally made an account to share my ring with some fellow bauble lovers. (I fear I will bore my real-life friends to tears if I go on about it one second longer

)
A little bit of back-story: I met my boyfriend (NO! fiancé!!) 11 years ago last Thursday while we were in college, and we've dated nearly consistently since then. We've been together so long that I had no reason to suspect a proposal on the week long Valentines Day/Anniversary trip that he'd planned for us. He knew I loved old cuts, and had an idea of the jewelers whose work I admire, but that's about all. The rest was his doing. That devious boy plotted with mother, my best friends...I am certain I was the last to know!
On to the good stuff
:
GIA 1.76ct OEC / K / VS2 / no fluor set in a halo with platinum stems and prongs and rose gold shank. Size 6.5.
Look at those OEC chunky flashes!

Something about the contrast between the rose gold plain shank and the diamond is really satisfying to me. I love that it blends into my skin. Warmer colored diamonds and rose gold are my absolute favorite marriage. So yummy.
And of course, Leon's micropave is flawless! I know Leon has been a mixed bag for users of this forum, but for what it's worth my fiancé said that he couldn't have imagined a better experience. He was pleased at how accommodating Leon was while he waffled back and forth regarding certain ring designs and details. I wasn't personally involved in the process but I couldn't be happier with the result

I will try to get some better photos with my DSLR later! I hadn't realized how blurry and mediocre the iPhone photos are. I am becoming a real weirdo; running around to different light sources snapping photos of my ring. YIKES!