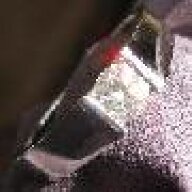 Joined

Feb 9, 2009
Messages

48
I previously posted in
this
thread asking for some opinions on a wedding band to go with my ring. This is a replacement as I actually got married back in August and had a basic 1/2 ct round six prong solitaire ring. Unfortunately in November it was lost (and we believe subsequently stolen by our apartment neighbors

) so we had to get a new one.
I feel kind of guilty for liking my new ring so much more. I never would have complained about the old one (DH picked it out with little input from me) but I think this new one is really so much more my style.
I don''t know if I was looking for the wrong terms or what but from pretty much the beginning of our search I wanted this setting. And I couldn''t find it!! I thought it would be called a half-bezel but that always turned up rounded half bezels...and I wanted straight edges, lol. Maybe "bar" would have been better? Eventually we asked a local jeweler to make this for us and it turned out GREAT IMHO.
The ring itself is X-1 14K white gold (I had trouble with rhodium plating on the last ring), the diamond is .53ct H VS-1. I don''t have specific specs or certs but I don''t really mind...I love it anyway!
What do you guys think?