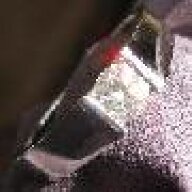 Joined

Feb 9, 2009
Messages

48
Hi all, I''m new but have been lurking for the past couple of months...observing and learning ALOT about diamond jewelry!
I got married last year in August and absolutely loved my wedding ring (traditional six prong solitaire combined with a wrap with small side round diamonds) but unfortunately it seemed my ring was not fated to be on my hand forever. Sadly in November the ring was lost (fell off my hand on a cold winter day) and it has not turned up since.
Just last week my new ring was finished and I love love LOVE it! It''s way different than my past one...a half bezel with straight instead of rounded bezel edges...It kind of looks like a tension set from above. I think this one also helps offset what i call my "finger pudge"

The problem is now I obviously don''t want to do a wrap this time...Part of me wonders if I should not even get a wedding band to accompany this since the band on this ring is so wide to begin with. However I think I''d like to try and find one or at least keep my options open.
So I''m looking to solicit some suggestions and opinions on what type of band would look best with my ring! I will say that I am a "simple is better" kind of person and I do not like a lot of stones overcrowding a solitaire. I was thinking that something engraved/carved-looking would be nice but I''m kind of at a loss on ideas in that area.
Any help you guys can give me would be appreciated!! Thanks!!